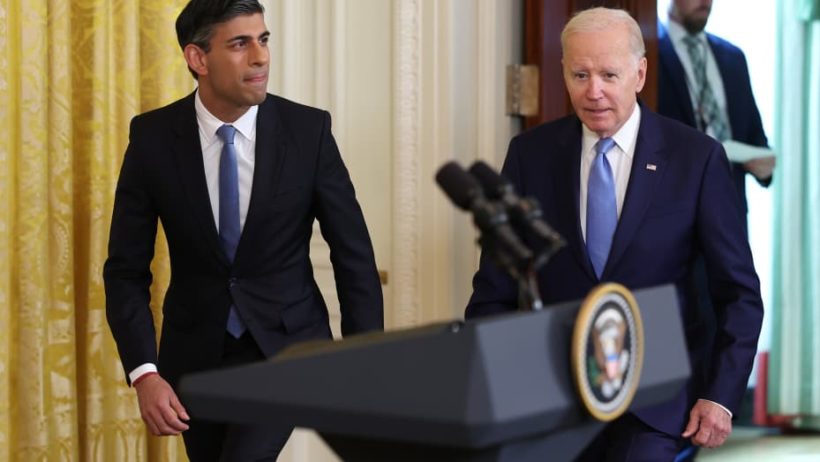 Despite a U.S.-U.K. trade deal remaining very much elusive, British Prime Minister Rishi Sunak and President Joe Biden signed a new "Atlantic Declaration" aiming to bolster economic security in the face of threats coming from Russia and China.
The agreement, announced Thursday at a joint press conference in the East Room of the White House, is a series of mini deals looking artificial intelligence, critical minerals, clean energy and security.
Sunak, coming to the end of his U.S. trip this week, lauded the deal as a "new economic partnership for a new age, of a kind that has never been agreed before." He highlighted £14 billion ($17.5 billion) of new U.S. investment that has been committed into the U.K., with the two sides also undertaking joint research in areas like quantum, semiconductors and AI.
A document outlining the deal on the U.K. government website said that Britain and the U.S. would start talks on an agreement that would allow electric vehicle minerals mined in the U.K. to receive the tax benefits under Biden's Inflation Reduction Act. The same document said Biden would ask Congress to label Britain as a "domestic source" within the U.S. Defense Production Act, giving suppliers in the country more favorable terms.
"We face new challenges to international stability — from authoritarian states such as Russia and the People's Republic of China (PRC); disruptive technologies; non-state actors; and transnational challenges like climate change," the document read.
Sunak, still fairly new in the role after being installed following the market turmoil of his predecessor Liz Truss, was quizzed on a possible U.K.-U.S. trade deal that was promised to his Conservative Party under Donald Trump's tenure.
Britain left the European Union on Jan. 31, 2020, and a recent cost-of-living crisis in Britain as well as current opinion polls suggest that public sentiment has turned against Brexit amid a cost of living crisis accentuated by supply chain issues.