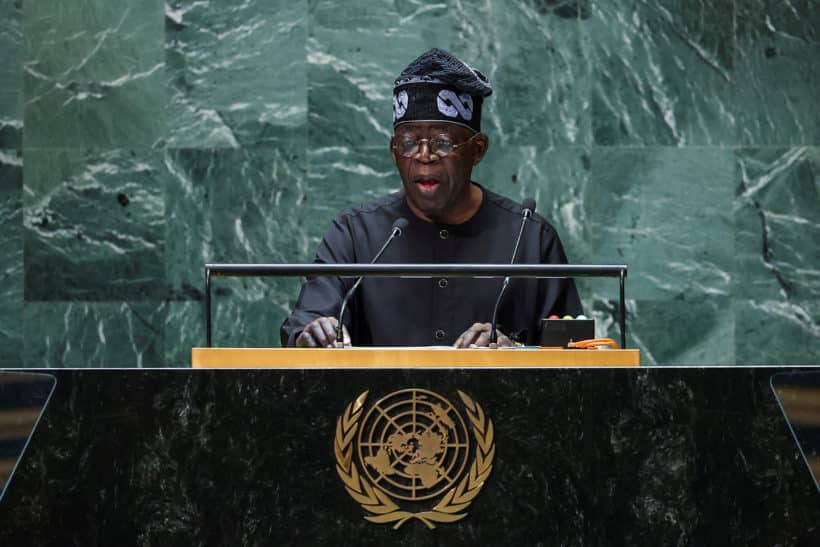 UNITED NATIONS, (Reuters) – Nigerian President Bola Tinubu urged the United Nations to become more proactive in addressing his African nation's poverty and security issues and helping to fight illicit resource extraction, his spokesman said on Thursday.
Tinubu raised the issues when he met U.N. Secretary-General Antonio Guterres on Wednesday on the sidelines of the U.N. General Assembly in New York, his spokesman Ajuri Ngelale said in a statement.
The Nigerian leader said malign actors who engage in illicit activities, including resource and weapons smuggling, exploit Africa's vast mineral wealth and undermine its stability.
"We are facing the great challenge of scavengers ravaging our lands and oppressing our people on illegal mines, taking our gold and mineral wealth back to developed economies by stealth and violence," the statement cited Tinubu as saying.
"We will now be aggressive and we will question motives. We will stop what is happening," he said, urging "effective collaboration" with the U.N.
Tinubu called for the United Nations to evolve from a global discussion platform into a proactive coordination centre, highlighting the urgency of addressing poverty and security issues.
In response, Guterres acknowledged the need for comprehensive reform within the U.N. to address institutional weaknesses and improve decision-making power for developing nations, according to the statement.
"We now recognize the need to reform the institution to represent the world as it is today," Guterres was quoted as saying.
In a speech at the U.N. General Assembly on Tuesday, Tinubu, who chairs the West African bloc ECOWAS, assailed military coups that have swept through West Africa and pledged to help re-establish constitutional order in Niger.
(Reporting by Felix Onuah in Abuja; Writing by Elisha Bala-Gbogbo; Editing by Howard Goller)